Finnish
Soul
of
Chicken,
CupOfTherapy,
arriving
in
Hong
Kong
! 
Deliver the power of soul soother
When you are physically tired, you can take a break. But what if you mentally tired, what would you do? The pace of life in Hong Kong is fast and the working pressure is heavy, and it is easy to overlook your mental health. When negative emotion has been buried at the bottom of the heart, one day this emotion will overwhelm and it is too late. 
CupOfTherapy is a Finnish mental healing graphic and art. Since CupOfTherapy team arrived in Hong Kong last year October, it becomes very popular. This year July, illustrator Matti Pikkujämsä and Psychotherapist Antti Ervasti will visit Hong Kong and bring a series of Heartwarming activity with them to refresh everyone tired soul.
Tailor made Heartwarming illustration
CupOfTherapy has been signed by Japan MUJIBOOK for copyright translation in Japanese and ranked third in the bestseller list. Ichiban Book will launch a traditional Chinese version of "CupOfTherapy I'm too tired to talk! Let's hug!" in the Hong Kong Book Fair. This book contains 100 decompression illustrations which have a wide coverage such as the relationship between husband and wife, self–esteem, caring and facing the choices in life and the corresponding mentality. It can help people to learn how to embrace real sadness in life and accept imperfection etc. Among them, 10 illustrations are created by the author, especially for the traditional Chinese version. These 10 illustrations are special for busy urban people to remind them of the importance of mental health.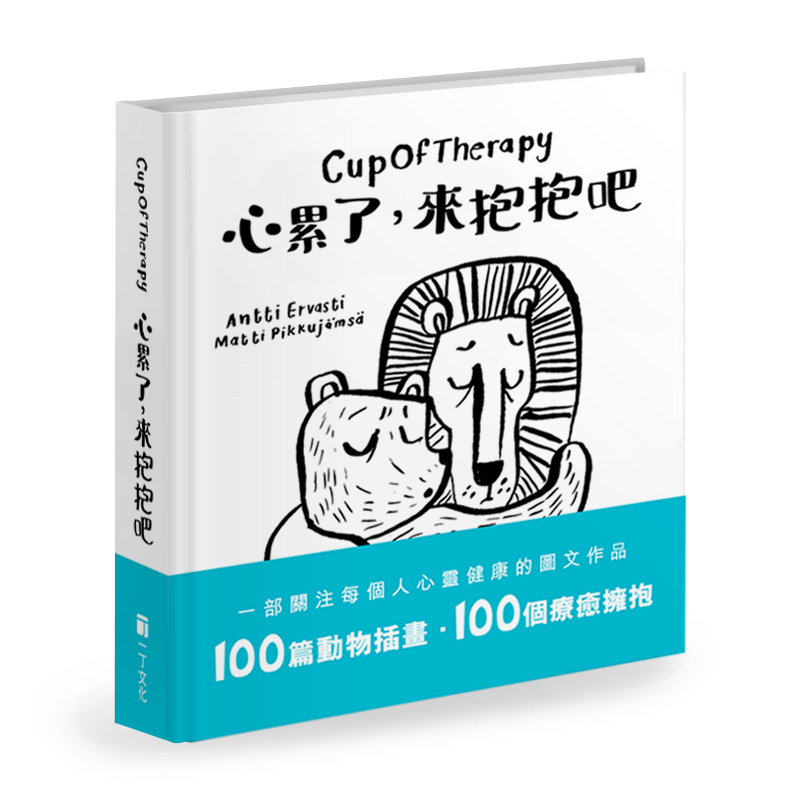 Face to Face Empowering talk
Two authors will present the activity that holds on 17 July – 28 July in a different place. During the book fair, everyone can take a photo with CupOfTherapy protagonist in Popular Book booth store, also you can give them a hug.
In addition other two activity " I'm too tired to talk! Let's Hug" and Heartwarming animal drawing will hold during this period of time. We hope that when there are contradictions, lost, helplessness, powerlessness and upset, we can give everyone a heartfelt hug, support, encourage and explore different angles and attitudes to face their life.
"I'm too tired to talk! Let's hug"
Introducing CupOfTherapy creation concept and autography
Time:
18 July 2019 Thursday 18:00-19:00
19 July 2019 Friday 18:00-19:00
Venue: Hong Kong Wan Chai Convention and Exhibition Centre, Hong Kong Popular store booth 1C-D02 CupOfTherapy speciality corner.
Heart-warming animal drawing
One on One empowering discussion can share all the life story with Psychotherapist Antti and illustrator Matti will draw a special heartwarming animal picture on site.
Time:
18 July 2019 Thursday 19:00-21:00 (Approximately 15 mins per person)
19 July 2019 Friday 19:00-21:00 (Approximately 15 mins per person)
20 July 2019 Saturday 19:00-21:00 (Approximately 15 mins per person)
21 July 2019 Sunday 19:00-21:00 (Approximately 15 mins per person)
Heart Curing Accessories
In Addition, CupOfTherapy and Modena Stationery launch a series of Mental Health Stationery include Notebook, Sketchbook, Travel Wallet, Passport Holder, Zipper bag, Luggage tag. No matter how busy your life, hope everyone can find themselves. Never forget their true desire and find the lifestyle that they desire for. CupOfTherapy x Modena Stationery mental health series can be found in Popular book store booth in book fair, the mills Modena stationery shop (Shop G10, G/F, The Mills, Tsuen Wan) and Tsim Sha Tsui Eslite speciality counter. (L208, 2/F, Star House, 3 Salisbury Road, Tsim Sha Tsui, Kowloon.)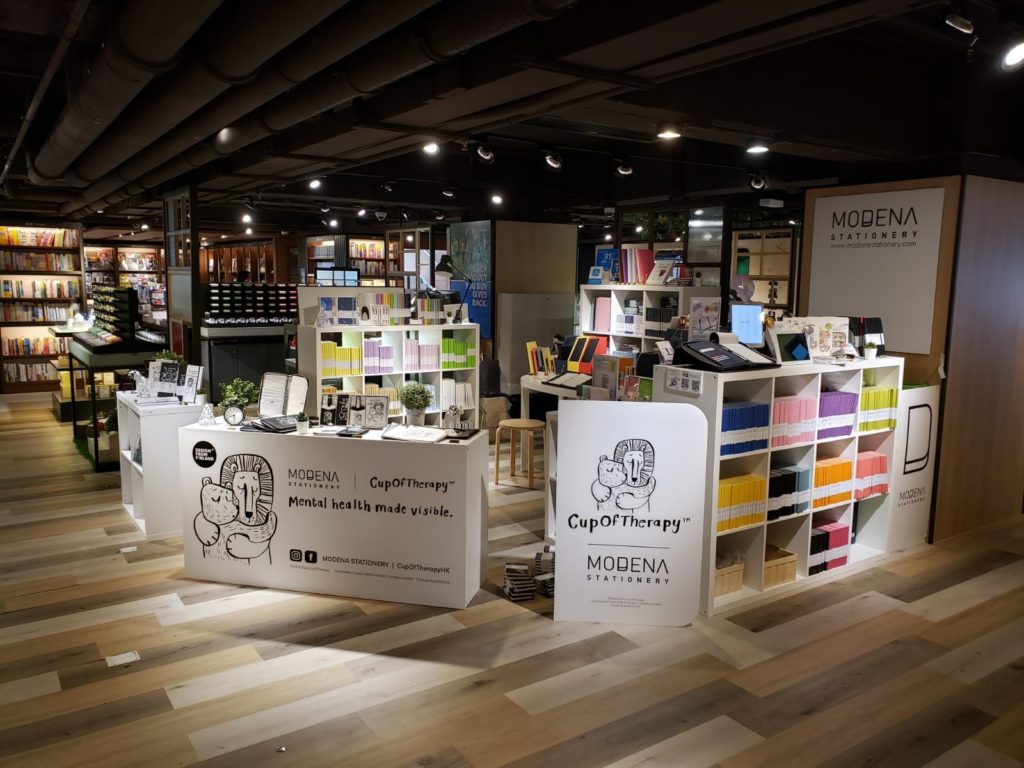 If you miss "I'm too tired to talk! Let's hug" Sharing time during book fair, that's alright, you can join us another time shown below.
Also, Matti Pikkujämsä and Antti Ervasti will be here in this time, listen to your story and create your own special CupOfTherapy Notebook. Limited to 30 books per day! First come first served!
"I'm too tired to talk! Let's Hug" 
Introducing the concept of CupOfTherapy
Time: 27 – 28/July (Saturday & Sunday)  12:00 – 12:45pm & 3:00 – 3:45pm
Venue:Shop G10, G/F, The Mills, 45 Pak Tin Par Street, Tsuen Wan
"Soul Sharing Station—CupOfTherapy"
One on One sharing time can share your life story with Antti and Matti will draw your own special animal on notebook.
Time: 27, 28 July 2019 (Saturday, Sunday) 13:00-19:00
Limited to 30 per day CupOfTherapy exclusive Notebook!
Venue: Shop G10, G/F, The Mills, 45 Pak Tin Par Street, Tsuen Wan
Appointment Link: https://forms.gle/9g2KQ8BzTfFL4byp6
I'm too tired to talk but let's hug
I don't live in the past but the past lives in me.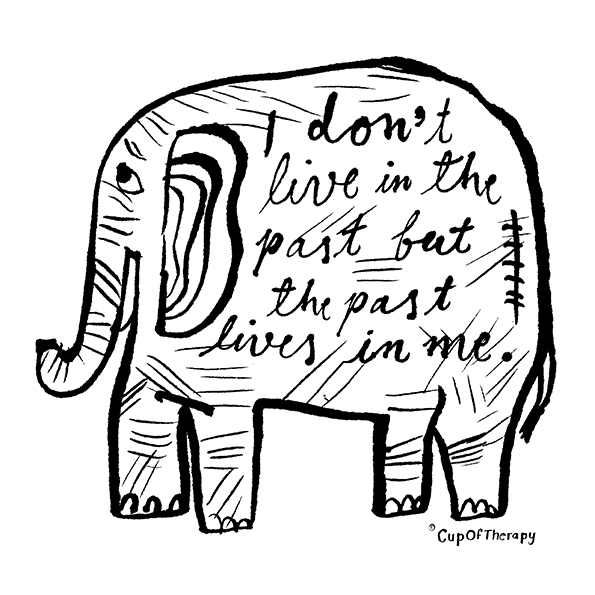 Sometimes paradise is close.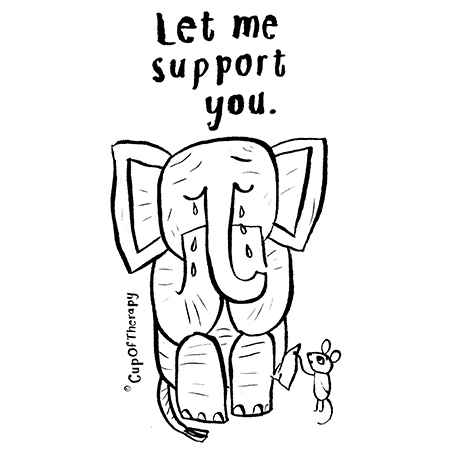 What do I want from life? More of this. 
I'm a single mother of three piglets. 
I am not afraid to express my emotions.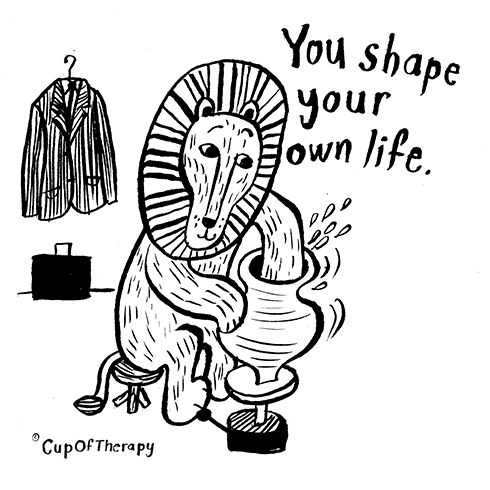 Stop being proud of multitasking. 
ABOUT CupOfTherapy :
CupOfTherapy is a new concept which sprang up in May 2017. It introduces the world of distinctive and easily approachable animal figures to us through drawings and important themes which support well-being and mental health.
In the CupOfTherapy products life's big and small problem points are depicted in a gentle way. The illustrations communicate encouragement, comfort and humour. We want to bring up difficult and sensitive topics and situations with the help of our products. Each CupOfTherapy drawing is carefully considered and important to us. They offer people a way to relate to these universally shared, even challenging themes.
The CupOfTherapy world was created by psychotherapy professionals Antti Ervasti and Elina Rehmonen together with awarded and internationally recognised illustrator and graphic designer (who constantly works with Marimekko, Samuji, Muji, Idee, Graniph, etc..) 
Matti Pikkujämsä. 
Facebook & Instagram: @CupOfTherapyHK 
《CupOfTherapy too tired to talk, Let's hug》new book information:
Author︰Antti Ervasti & Matti Pikkujämsä
Publisher: Ichiban Book 
ISBN︰978-988-78158-4-6
Retail Price︰HK$108
Publishing date︰17 July 2019 (Hong Kong Book fair and all key bookstore in Hong Kong)
Facebook:@popularbook
Facebook:@ichiban.book