自 1920 年以來的德國相機製造商和發明便攜式且價格適中的相機雙鏡頭相機"Rolleiflex"始祖。。從而對攝影藝術的發展產生了迅速的影響。
A German camera makers since 1920 and the pioneer who invented a portable and affordable camera twin lens camera "Rolleiflex". It led to the rapid influence for the growth of Photography Art. 
1920年, Paul Franke和Reinhold Heidecke在德國布倫瑞克成立了"Franke & Heidecke精密機械和光學" 工作室。
Paul Franke和Reinhold Heidecke製造的第一台相機是立體相機,它是可攜式但專業的雙鏡頭反光相機"Original Rolleiflex 6X6"的重要基石。在1929面世後轟動一時,名聲大噪,"Rollei"之名從此迅速傳遍世界。
 Rollei不斷改良Rolleiflex的功能、尺寸和價格,以適合更多喜愛攝影人仕和把攝影藝術大眾化。不同的 Rolleiflex 版本,如Baby Rolleiflex、Rolleicord(更小更經濟版本)和 Rollei Magic 等面世….
1956年Rolleiflex 6 x 6相機創下百萬銷量大關。
1966年,在Photokina (當時全球最大的攝影和影像行業貿易展覽會) 上公佈了新傑作"Rollei 35"。 它是當時最小的135mm膠片相機之一,重310克,售出300萬台。
 1970年,Rollei製造了第一部單鏡頭反光相機,並造了SL35、SL66和SLX等著名相機。
2009年,推出了Rolleiflex 2.8FX、Rolleiflex 4.0FW和 Rolleiflex 4.0FT 14克拉黃金限量版本。 Rolleiflex 不再只是一款有質素的功能性相機,也是一種生活文化形象。
自發布"Rolleiflex 6X6"以來,Rolleiflex 在攝影史上產生了巨大影響,在不斷的技術創新下引育了很多有名攝影師及把攝影藝術普及化。
2022年,服飾、包袋、帽飾、配飾等不同生活方式產品陸續上市,銷量快速增長。 更多時尚和生活方式產品也在開發中。
In 1920, founded by Paul Franke and Reinhold Heidecke, the "Franke & Heidecke Precision Mechanics and Optics workshop" is established in Braunschweig, Germany. 
The first camera made is a stereo camera, which led to the first portable but a professional twin-lens reflex camera in 1929 "Original Rolleiflex 6X6". It made a huge noise with good reputation, and the name of the "Rollei" thereafter quickly spread throughout the world. 
Rollei company continued their works on Rolleiflex with the improvement of the size, function, and more affordable price for the market. They made different Rolleiflex version ie. Baby Rolleiflex, Rolleicord(smaller and cheaper version) and Rollei Magic, etc…
In 1956, there was One million sales mark for Rolleiflex 6 x 6 camera. 
In 1966, another masterpiece was announced "Rollei 35" in Photokina. It was one of the smallest 135mm film camera with 310grams, 3 millions pcs are sold. 
In 1970, Rollei started manufacturing single-lens reflex cameras and created famous cameras such as SL35, SL66, and SLX. 
In 2009, Rolleiflex 2.8FX, Rolleiflex 4.0FW, and Rolleiflex 4.0FT released in 14 carat Gold limited edition for fans. Rolleiflex is no longer just a function camera, but a lifestyle culture image.
Rolleiflex gives a great influence on the history of photography since the announcement of "Rolleiflex 6X6", which has continued to develop under constant technological innovation. 
In 2022, different lifestyle products including apparel, bags, cap, and accessories are released in the market with fast-growing sales. More fashion and lifestyle products are under development too.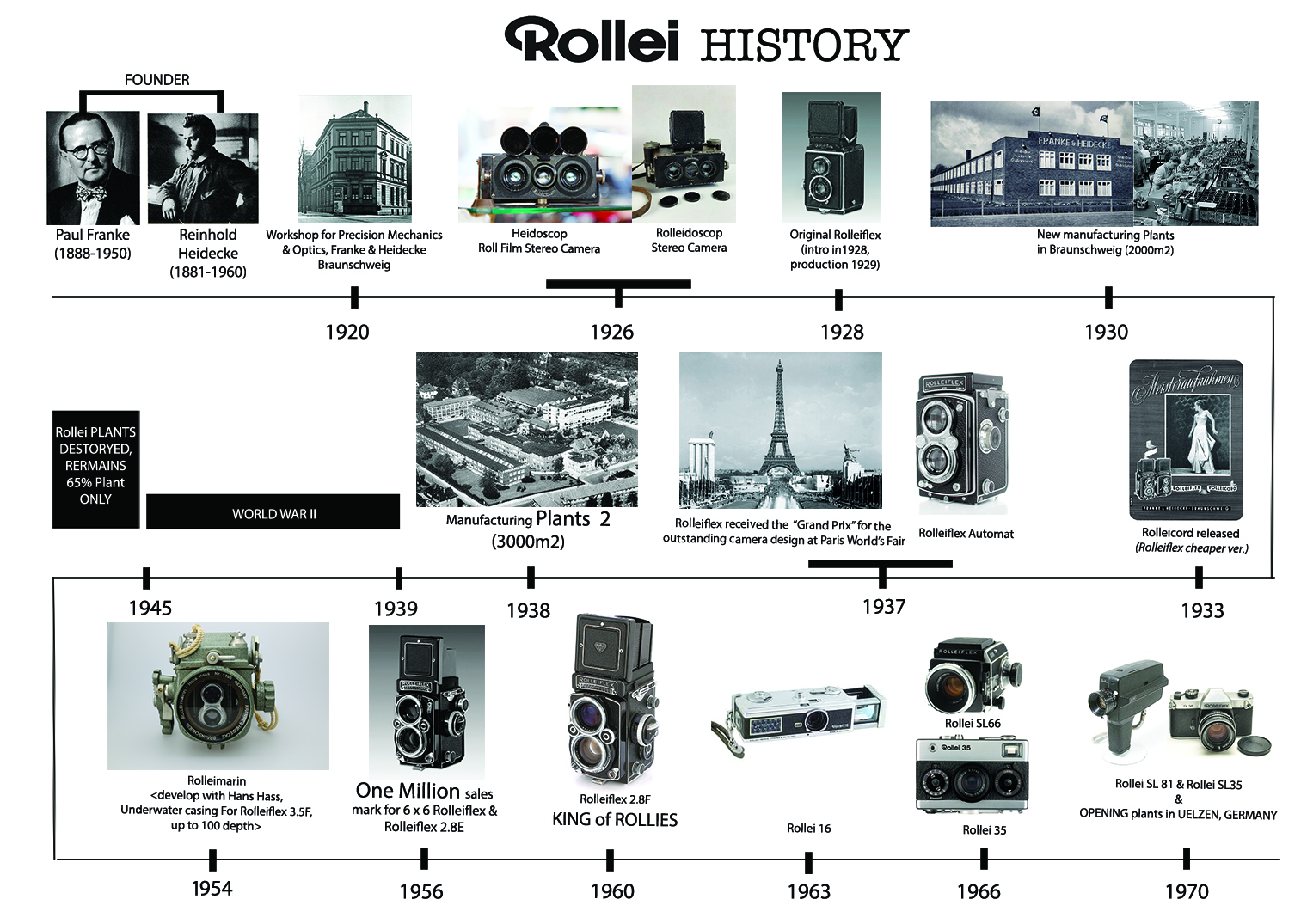 *Photos are from various webpage which are just for inspiration purpose.